For over 25 years Home Base Holidays has been helping people to arrange home exchange vacations. Join today to access 1000s of current vacation swap offers worldwide!
We look forward to other places and adventures
We've already had one exchange and hope to continue as members for many years. We look forward to other places and adventures and we recommend membership of this site whenever the subject of travel or holidays arises!
Sheona and Richard, Spain (HE21240)
Happy and successful house exchanges
We have done many happy and successful house exchanges in Europe, the USA, Scandinavia and Australia.
S. Lamare, France
What is a Home Exchange Vacation?
Home/house exchanging is a mutual swapping of accommodation, usually at the same time, for a holiday in your own country or abroad. This makes it a very economical way to travel as it provides free accommodation worldwide. Home Base Holidays has 1000s of current up-to-date offers including luxury houses, city apartments, beach villas... and even house boats!
Featured Home Exchange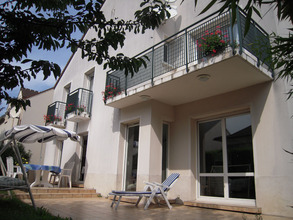 4 Bedroom House Bourg-la-Reine, France
Contemporary-style house with garden and sunny terrace at 6 km south from Paris city. Quiet and relaxing area, but with fast access to Paris and surro...
3 Bedroom House Jasper, Canada
2 Bedroom House Primrose Hill, England
5 Bedroom House Berlin, Germany
Browse Listings